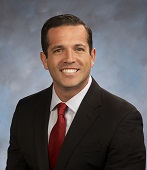 Milan J. Torres, CFP®
---
INVESTMENT • TAX • RETIREMENT • ESTATE • BUSINESS SUCCESSION
No matter your net worth, my passion lies in working with you to help you achieve your short and long term financial goals.
As a CERTIFIED FINANCIAL PLANNERTM practitioner providing financial planning services I am held to a fiduciary standard of care for my clients. This means that all recommendations have to be made with YOUR best interest in mind. As it should be. Contact me today for a complementary consultation!
Rolling funds from an employer's plan to an IRA enables you to maintain control regardless of your employment situation.

One change made by 2017 tax legislation, a new way of measuring inflation, may have a significant effect on individual taxpayers over the long term.

The Tax Cuts and Jobs Act of 2017 changed the playing field for municipal bonds that could affect the supply and demand of these securities.

An investor's personal situation should be considered when assessing his or her risk tolerance.