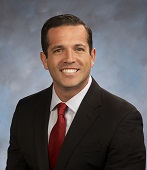 Milan J. Torres, CFP®
---
INVESTMENT • TAX • RETIREMENT • ESTATE • BUSINESS SUCCESSION
No matter your net worth, my passion lies in working with you to help you achieve your short and long term financial goals.
As a CERTIFIED FINANCIAL PLANNERTM practitioner providing financial planning services I am held to a fiduciary standard of care for my clients. This means that all recommendations have to be made with YOUR best interest in mind. As it should be. Contact me today for a complementary consultation!
This article features a worksheet and relevant information to help estimate retirement expenses and income.

Helping a grandchild obtain a college degree could be life-changing for the student. Still, it's important to consider how a gift could affect student aid and taxes.

Treasury Inflation-Protected Securities (TIPS) can help hedge a bond portfolio against a potential spike in inflation.

Need help understanding complicated retirement savings guidelines? Here are four ideas to help simplify some savings strategies.