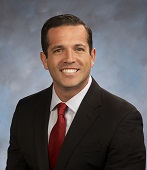 Milan J. Torres, CFP®, CRPC®
---
INVESTMENT • TAX • RETIREMENT • ESTATE • BUSINESS SUCCESSION
No matter your net worth, my passion lies in working with you to help you achieve your short and long term financial goals.
As a CERTIFIED FINANCIAL PLANNERTM practitioner providing financial planning services I am held to a fiduciary standard of care for my clients. This means that all recommendations have to be made with YOUR best interest in mind. As it should be. Contact me today for a complementary consultation!
Tax season is an opportunity to look at the tax implications of investment strategies and plan for the year ahead.

Understand the rules and deadlines for the estates of recently deceased taxpayers when seeking portability relief.

Investing based on principles of sustainable, responsible, and impact could have a positive social outcome.

How smart-beta mutual funds and ETFs are constructed and the role they may play in an investor's portfolio.
Calculate the rate of return you would have to receive from a taxable investment to realize an equivalent tax-exempt yield.

How much do you need to save each year to meet your long-term financial goals?

How much Disability Income Insurance do you need?

Knowing your likely life expectancy is an important factor in making long-term financial plans.